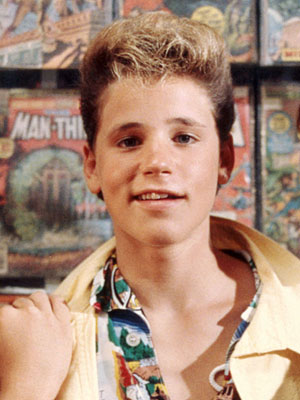 Things are going great in showbizzzzz-land. I just heard through Twitter that
Corey Haim
has died. An
accidental overdosis, says the LAPD
....
Growing up at our home, Corey was best known as the young boy in
The Lost Boys
who finds out his brother is a vampire, but he also played in Stephen King's
Silver Bullet
and of course in
Lucas
, in which he plays a boy who falls in love with a girls who is out of his league. With his crooked smile and dimples he was so cute! A real heart-throb.
According to his biograpyh on
IMDB
he started drinking during the filming of Lucas and smoked his first joint during The Lost Boys. A year and a half after that he was doing coke and a year and a half after that he was on crack. He then got addicted to valium and suffered a drug-indused stroke from taking up to 85 a day.
The last time I saw him on a cover of a DVN was when
Lost Boys,The Tribe
came out, but I wasn't interested at all. Love the original, can't be bothered with a sequal. According to IMDB there was a lot of projects Corey had lined up, but they will have to find someone else now.. Drugs suck!